Disclosure Information
Online Privacy Notice
Last updated May 14, 2020
Safeguarding personal and financial information is increasingly challenging. That's why we make it a priority and provide you with access to the information you need to protect yourself and to help keep your information secure.
This Online Privacy Notice ("Notice") applies to the peterlazaroff.com website (including all webpages, collectively, the "Site"). The term "PJL" or "we" or "us" or "our" in this Notice refers to Lazaroff, LLC, a Missouri limited liability corporation. This Notice describes how the Site may collect, use and share information from or about you and explains how information may be collected and used. We will use and share any information that we collect from or about you in accordance with this Online Privacy Notice.
Collecting Information About You Online
Personal Information means personally identifiable information such as information you provide via forms, surveys, applications or other online fields including name, postal or email addresses, telephone, fax or mobile numbers, or account numbers. To the extent you voluntarily subscribe to our newsletter, contact us through a contact form, send us an email, or otherwise transmit your personally identifiable information to us through the Site, we will collect and retain such information in order to fulfil your request.
In addition, we collect "Other Information" about you through the Site. Other Information is any information other than Personal Information that does not reveal your specific identity or does not directly relate to an individual, such as browser information, information collected through cookies, pixel tags and other technologies, demographic information, other information provided by you such as your date of birth or household income, but which is aggregated and de-identified data so as not to be personally identifiable.
How We Collect and Use Other Information
We and our third-party service providers may collect and use Other Information in a variety of ways, including:
Information Collected Through Browser or Device
Certain Other Information is collected by most browsers and/or through your device, such as your Media Access Control (MAC) address, device type, screen resolution, operating system version and internet browser type and version. We use this information to ensure Sites function properly, for fraud detection and prevention, and security purposes.
Information Collected Through Cookies
Cookies are pieces of information stored directly on the device you are using.  Cookies we use do not contain or capture unencrypted Personal Information.  Cookies allow us to collect Other Information, such as browser type, time spent on the Site, pages visited, language preferences, and your relationship with us.  We use the Other Information for security purposes, to facilitate navigation, to display information more effectively, to personalize/tailor your experience while engaging with us, and to recognize your device to allow your use of our online products and services.  We collect statistical Other Information about the usage of the Site in order to continually improve the design and functionality, to monitor responses to our advertisements and content, to understand how account holders and visitors use the Site and to assist us with resolving questions regarding the Site.
You can refuse to accept these cookies and most devices and browsers offer their own privacy settings for cookies.  You will need to manage your cookie settings for each device and browser you use. However, if you do not accept these cookies, you may experience some inconvenience in your use of the Site and some online products and services.  For example, we will not be able to recognize your device and you may need to answer a challenge question each time you log on.
Information Collected Through Other Technologies (Pixel Tags, Web Beacons, and Clear GIFs)
Information may be collected through these technologies in connection with some Site pages, downloadable mobile applications and HTML-formatted email messages to measure the effectiveness of our communications, the success of our marketing campaigns, to compile statistics about usage and response rates, to personalize/tailor your experience while engaging with us online and offline, for fraud detection and prevention, for security purposes, and to assist us in resolving account holders' questions regarding use of our Site.
Flash objects
As part of our solutions for online authentication, we may choose to use Flash objects (sometimes referred to as "Local Shared Objects") to help us recognize you and your device when you come back to the Site. For our pages running Adobe® Flash® content (demos and tutorials with moving content), we may use Flash objects to determine your browser type and version of Adobe Flash in order for you to view the content.  We do not use Flash objects for any online behavioral advertising purpose.  Deleting cookies does not delete Flash objects. You can learn more about Flash objects – including how to control and disable them – through the Adobe interface. If you choose to disable Flash objects from our Site, then you may not be able to access and use all or part of the Site or benefit from the information and services offered.
IP Address
Your IP Address is a number that is automatically assigned to the device that you are using by your Internet Service Provider (ISP).  An IP Address is identified and logged automatically in our server log files whenever a user visits the Site, along with the time of the visit and the page(s) that were visited.  Collecting IP Addresses is standard practice on the internet and is done automatically by many web sites.  We use IP Addresses for purposes such as calculating Site usage levels, helping diagnose server problems, to personalize/tailor your experience while engaging with us online and offline, for compliance and security purposes, and administering the Site.
Aggregated and De-identified Data
Aggregated and De-identified Data is data that we may create or compile from various sources, including but not limited to accounts and transactions. This information, which does not identify individual account holders, may be used for our business purposes, which may include offering products or services, research, or analyzing market trends, and other purposes consistent with applicable laws.
Additional Information
Third-party widgets – we may allow certain widgets (e.g., social share buttons) on our Sites that enable users to easily share information on another platform, such as a social media platform. The third parties that own these widgets may have access to information about your browsing on pages of our Sites where these widgets are placed. You may wish to review information at the third-party site, such as social media platforms where you have an account, to determine how these third parties collect and treat such information. Also, see Linking to other sites and Social media sites below.
Linking to other sites
We provide links to third-party sites. If you follow links to sites not affiliated or controlled by us, you should review their privacy and security policies and other terms and conditions, as they may be different from those of our Sites. We do not guarantee and are not responsible for the privacy or security of these sites, including the accuracy, completeness or reliability of their information. See our Use of Links section in our Terms of Use page for further important information regarding other sites for which we provide links on this Site or which provide links to our Site.
Social media sites
PJL provides experiences on social media platforms that enable online sharing and collaboration among users who have registered to use them. Any content you post on our official social media pages, such as pictures, information, opinions or any Personal Information that you make available to other participants on these social platforms, is subject to the Terms of Use and Privacy Policies of those respective platforms. Please refer to them to better understand your rights and obligations with regard to such content. In addition, please note that when visiting any of our official social media pages, you are also subject to our Privacy Policies stated on those sites, which may have differences from these Privacy Policies.
Children Under Age 13 – COPPA
In compliance with Children's Online Privacy Protection Act ("COPPA"), the Site is not directed at children under the age of 13 and we do not intend to collect any Personal Information, such as name, home address, e-mail address, telephone number, or social security number, from children under the age of 13. If you are under the age of 13, please do not provide us with your Personal Information. If you have any reason to believe that a child under the age of 13 has provided us with his or her Personal Information, please contact us immediately for removal of that information from our databases.
Security
To protect Personal Information from unauthorized access and use, we use security measures that comply with applicable federal and state laws. These measures may include device safeguards and secured files and buildings as well as oversight of our third-party service providers to ensure information remains confidential and secure.
Updates to this Privacy Notice
This Online Privacy Notice is subject to change. Please review it periodically. If we make changes to the Online Privacy Notice, we will revise the "Last Updated" date at the top of this Notice. Any changes to this Notice will become effective when we post the revised Notice on the Site. Your use of the Site following these changes means that you accept the revised Notice.
Contact
For questions regarding this Notice, the Site and its collection and use of information, please send an email to [email protected], call us at (255) 352-6258.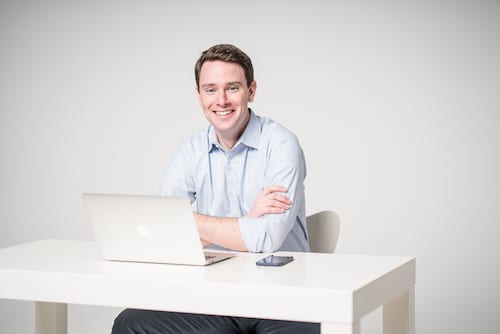 Peter Lazaroff, CFA, CFP® is a financial advisor, speaker, and author of the book Making Money Simple.
GET SOCIAL
Say Hello Online